Wi-Fi точка доступа Edimax EW-7438APn
— Wi-Fi точка доступа
— 802.11n
— 300 Мбит/с
— артикул 815184
Фотографии Edimax EW-7438APn
Настройка и обзор Edimax EW-7438APn
Having wireless bad reception at home or office? We have the quick and easy solution for you!
The Edimax EW-7438RPn N300 Universal Wi-Fi Extender can easily double the signal coverage of your Wi-Fi network for better Wi-Fi quality in homes with many rooms or multiple floors
Presentation of the universal 300Mbps wireless extender Edimax
Ваш смартфон не принимает сигнал от маршрутизатора? Сигнал надо усилить? Если у вас есть многофункциональный маршрутизатор Edimax, то вы получите необходимый уровень сигнала.
Работая в режиме маршрутизатор, точка доступа или ретранслятор, многофункциональный маршрутизатор легко подстроится под требования вашей сети. Существует несколько моделей многофункциональных маршрутизаторов с различными скоростями, покрытием и стоимостью: BR-6478AC (11ac), BR-6428nS V2 (N300), BR-6428nC (N300 большое усиление), BR-6228nS V2 (N150) и BR-6228nC V2 (N150 большое усиление). Для получения подробной информации посетите сайт www.edimax.ru.
Amazon Link:
Edimax Website: www.edimax.com
Complies with wireless 11ac/a/b/g/n standard with Wi-Fi speed up to 433M ( 11ac ) / 150M (11n )

Mini Size for Convenient Movement Without Unplugging it

Supports 64/128-bit WEP, WPA, WPA2, 802.1x encryption and WPS Button

Features Multi-Language EZMax setup wizard for easy installation
Procedure demonstrated on the Edimax Wireless 300M Range Extender/Access Point EW-7416APn V2 with Windows 7 (64 bit). (Watch in HD!)
1. (00:18) From factory default settings (if you don't think that your Edimax has factory default settings then press the reset button for 20 seconds, while plugged in, until the power light starts flickering -- after this, press the reset button again for about 5 seconds to start the WPS [Wi-Fi Positioning System]), plug the Edimax into the mains and, via an Ethernet cable, to your computer.
2. (01:10) For your current computer/router set-up, make a note of the....
a. IP [Internet Protocol] address (e.g. 192.168.1.254)
b. Subnet mask (e.g. 255.255.255.0)
c. DHCP [Dynamic Host Configuration Protocol] range (e.g. from 192.168.1.64 to 192.168.1.237). (To log in to your advanced router settings, you'll need the admin password of the router. If your main router is set to factory defaults, then this password is printed on the router itself, as well as on the plastic information card that comes with it.)
3. (04:40) Now start the set-up wizard from the CD.
4. (04:58) Select your language.
5. (05:00) Select your Edimax access point and click next. (If the wizard cannot find an access point, even though your Edimax is switched on with factory default settings and is connected to your computer via an Ethernet cable, then disconnect the Edimax from your computer and just leave it switched on somewhere for a few days/a week. Then try the same procedure again. It works for me when I have problems.)
6. (06:15) Type the username and password of the Edimax and click next. Since we are working from default factory settings, the username is admin and the password is 1234. (It is given on the underside of the Edimax.)
7. (06:32) Select Manually Assign an IP Address and then...
a. ...for the IP Address field, provide the desired IP address of the Edimax. This must be outside of your DHCP range (e.g. 192.168.1.238). Note that usable IP address sections only range from 1 to 254.
b. ...for the Subnet Mask field, provide the same subnet mask that your router uses. (e.g. 255.255.255.0)
c. ...for the Gateway, provide the IP address of your current router (e.g. 192.168.1.254). This is the gateway that the Edimax has to go through to access the internet. After this, click next.
8. (08:08) Select Repeater Mode and click next.
9. (08:17) For the Identification Name, you can type whatever you like or leave it as the default. This is the name that will show up when you are searching for wireless networks. You can also set-up security on the Edimax if you like, however, if your router is already password secured, then there is no need. After this, click next.
10. (08:52) Select your wireless router from the list. Make a note of what security type it uses, if any (e.g. WPA2-AES). Click next.
11. (09:39) Type in the wireless key for your router and click next.
12. (09:56) Make a note of all the details on the summary screen and click finish.
13. (10:40) Unplug and disconnect the Edimax from the computer. Take it to your desired location - this is ideally somewhere between your router and your computer. Plug the Edimax in at that location.
14. (11:19) Now when you check the available wireless networks on your computer, you should find the Edimax as one of the options; with a stronger signal than your main router!

15. (12:29) EXTRA STEP -- Following the above steps is enough to get the Edimax to work. However, after a few weeks, months or even years, the Edimax might stop working and you may be left wondering why. This is because, by default, routers are set to automatic channel selection. Therefore, if the channel of your router changes, the Edimax may not be able to repeat the signal. Fix the channel of your router after the set-up is complete to prevent this problem from occurring.
NOTE: If the Edimax is still not working. Log on to your router and then go to the Security tab. Edimax does NOT support 'WPA/WP2 Mixed' mode! So if you see that your router uses this security type, change it to 'WPA2 Only' and then start the WHOLE Edimax setup procedure again.

Official documentation:

Further tips are found in the reviews on Amazon:
Rate. Comment. Subscribe.
Просмотров: 40007
Ключевые слова:


Оценка

Edimax EW-7438APn

на WiFiRouters.ru:

1

из

5

на основе

88

оценок.
Часто задаваемые вопросы (FAQ)
На что обратить внимание при покупке Edimax EW-7438APn?
Положительные и негативные отзывы о Edimax.
Поиск прошивки DD-WRT для Edimax EW-7438APn
Комплектация Edimax EW-7438APn, что в комплекте?
Поддержка 802.11n, как настроить работу роутера в этом режиме?
Роутер не работает на полные 300 Мбит/с. Как выжать максимум?
Настройка pppoe Edimax EW-7438APn
Как сменить пароль на Edimax EW-7438APn?
Обзор Edimax EW-7438APn (видео)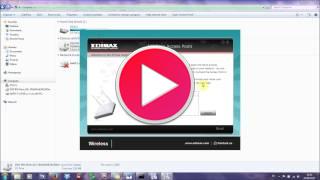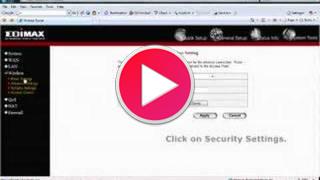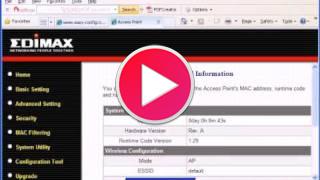 Дополнительные видео

ASUS
WL-330N

Cisco
AIR-AP1261N-E-K9

D-link
DIR-620/S/C1

ASUS
RT-N12 D1

D-link
DAP-1420
Популярные запросы
не работает edimax wireless 300M
Edimax BR-6428NS V2 N300 отзывы
edimax br-6428ns v2 probleme